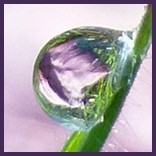 A huge and heartfelt Thank-You
I am forever grateful to all those who, with the work that it was founded on, laid the groundwork for EFT; to the courageous professionals who risked ridicule in their various disciplines to embrace the new field of "energy psychology;" to the countless practitioners and trainers who now share EFT and other energy psychology techniques around the world; to those who are working hard to fund and carry out the scientific studies that will win widespread institutional acceptance for those techniques.
And most especially, to Gary Craig and his daughter Tina Craig, for what you have given me both in EFT itself, and in such excellent training to share it professionally.
Thank you All, from the bottom of my heart, for what you are bringing to our troubled world.
.

Content copyright 2016 Betsy Crouse